By Elyse Amend
The West Island Chronicle
Beaconsfield's Centennial Hall was full of herons, ducks, turtles, fish, whales, and all sorts of other creatures this past weekend. No, the city's cultural centre was not transformed into a zoo, but rather played host to École primaire St. Rémi and Académie Marie Claire students' artwork depicting the flora and fauna of Lake St. Louis.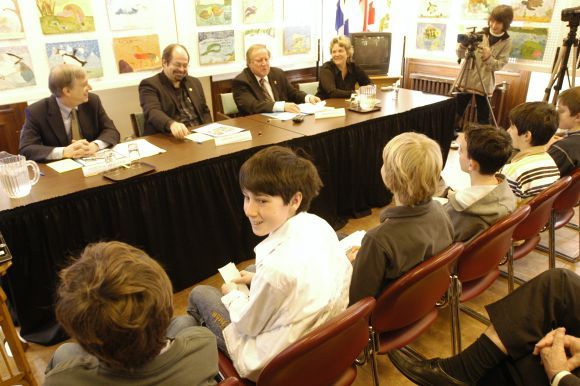 The exhibit, which was part of the Picture Clear Water project spearheaded by students in grades 5 and 6 at St. Rémi in Beaconsfield, was opened with a news conference and roundtable discussion with local politicians from all three levels of government.
Lac St. Louis MP Scarpaleggia congratulated the students on both their social conscience and for brining the three elected officials — himself, Benedetti, and Jacques-Cartier MNA Geoff Kelley – together for one event. "If you wouldn't have organized this event, we wouldn't be here talking with each other," he said. "This also proves that art can be used to sensitize people about important issues.
The 200 students taking part in the project focused on water contamination in Lake St. Louis. They participated in water workshops held by the Montreal Biosphere and the environmental group STOP, attended Scarpaleggia's town hall meeting on water issues in January, and extensively researched the different species that call the waters and shores of Lake St. Louis home. The children painted their chosen animals under the guidance of teacher Carole Flexman and artist Maja Vodanovic, and wrote Japanese-style haiku poems to accompany their work. Greeting cards featuring the students' paintings were also for sale at the exhibit, with proceeds going to the purchase of shrubs to be planted along the Meadowbrook stream bed, to help reduce erosion.
A number of students used the roundtable discussion as an opportunity to ask serious questions about Lake St. Louis and the surrounding area, many of which concentrated on the Meadowbrook stream in Beaconsfield. "Meadowbrook is polluted and there is almost no life in it. Has the city found what the source of the pollution is?" one student asked Benedetti. He responded sewer back-ups in the city have been a major cause of water pollution, and that Beaconsfield has spent $6 million in the past eight years to improve infrastructure, and also embarked on a home inspection program in 2006 to make sure residential sump pumps were not connected to the sanitary sewers. Such illegal connections create water quantities beyond the sewer network's capacity, which can lead to back-ups. With about 4,000 home visits in the past two years, about 15 per cent had their installations corrected.
Another student asked the mayor when they would be able to swim at Centennial beach without any risks. "We are not yet certain enough if the quality is good enough. Centennial is in a bay, so a little bit of pollution after a big storm, for example, can affect the water quality from one minute to the next," Benedetti said. "But I hope in the coming years – hopefully in less than five years – we'll be able to swim there again."
Kelley, who also fielded a number of questions, said he was impressed with the students and their social involvement. "The message you are giving out is that the environment is important to you," he said. "Have all the questions been answered? No. Have we made progress? I think we have made some significant steps. But the important thing is to keep going and make some noise."
If you missed this past weekend's exhibit, you will still be able to see the St. Rémi students' paintings at the Montreal Biosphere on Ste. Helene's Island on Saturday, in celebration of World Water Day.